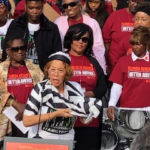 The importance of attending Lobby Day, an annual event that occurs just prior to the beginning of the Legislative Session, is to impress upon Legislators the critical criminal justice issues that will decrease a bulging prison population and protect public safety and to ask for their vote/support when those bills enter Committee for discussion.
If you were unable to attend Lobby Day in Tallahassee, Florida on March 13, 2019, the above link offers a peak at those who presented on the steps of the Old Capitol Building. Participants include ACLU, Florida Cares Charity, Senator Darryl Rousson, impacted family members and Forgotten Majority.
We extend an early invite for all to come out in astronomical numbers for Lobby Day 2020.
You can see a full clip of Lobby Day presentations courtesy of Dexter Gunn, President at Soars Reset. https://www.facebook.com/dexter.gunn.9/videos/1995440740553318/
ENJOY